Spring Intensive 2023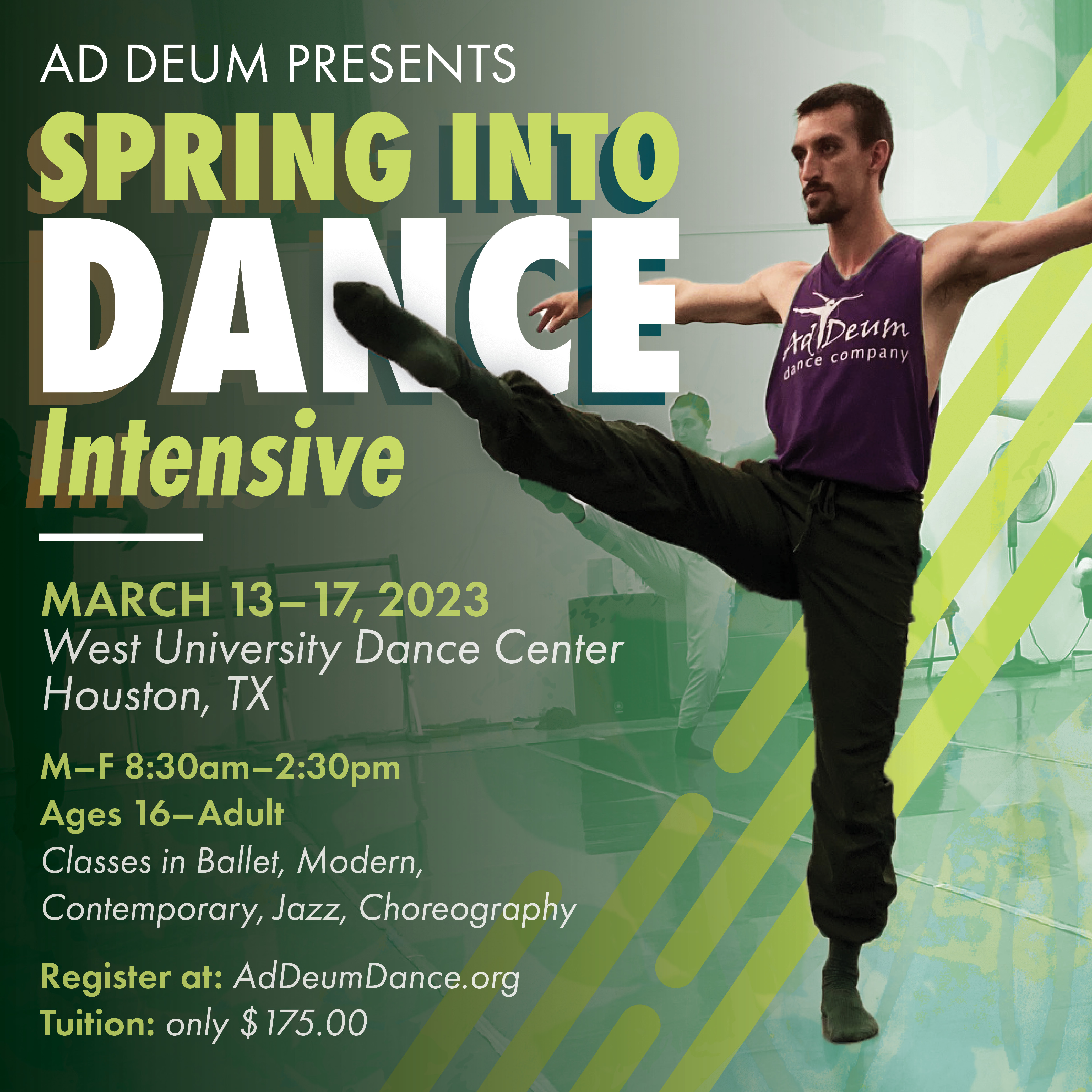 Time and location:
Mon 03/13/2023 8:30 a.m. - Fri 03/17/2023 2:30 p.m.
Faculty: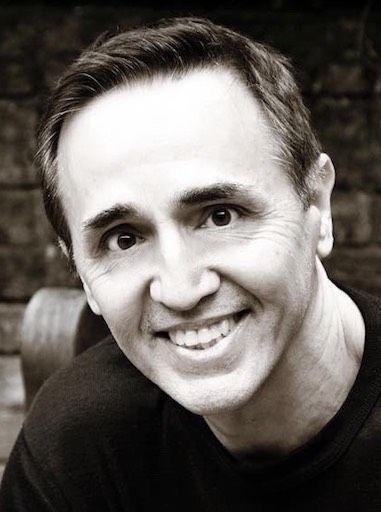 Randall Flinn
Founder / Artistic Director
Mr. Flinn began his dance training in Houston over twenty five years ago with Glenn Hunsucker, Camille Long Hill, Dina Vail and Patsy Swayze. His most recent modern dance influences have come from studies with The José Limón Dance Company and Steve Rooks, former principal dancer with Martha Graham. He has taught and choreographed locally as a guest artist for the Houston Ballet Academy, The Episcopal High School, Houston Met Dance Company, Joan Karff Dance Company, The High School for the Performing and Visual Arts, and North Harris Performing Arts Dance Company.
He was selected as a guest choreographer for Houston's Dance Salad 1999, Dance Houston 2006, and Texas Weekend of Contemporary Dance 2007. Nationally, he has served as guest faculty and choreographer for Cirque Du Soleil's-Alegria, Ballet Magnificat, Belhaven University, Friends University, Project Dance NYC, LA, and Sydney, Australia, as well as Hillsong and Dance Revolution Conventions.
Having lived throughout Europe and Asia for ten years, Mr. Flinn has also been a guest artist for Hong Kong Ballet, City Contemporary – Hong Kong, Guanzhou Modern Dance Company – China, Xaris Danz Europe, and Youth With a Mission International Schools of the Arts.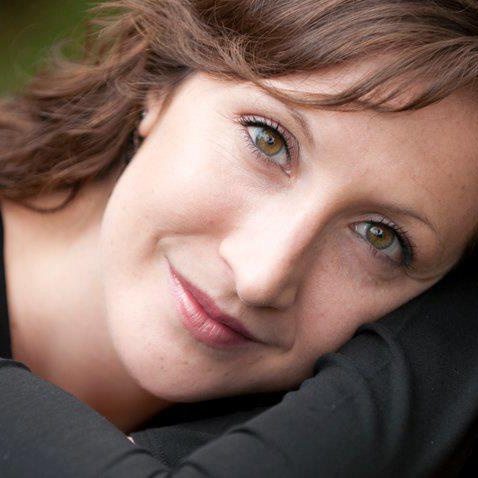 Betsy McMillan
Artistic Director of Vivid Ballet
Elizabeth "Betsy" began her ballet training with Alabama Dance Theater and continued with Houston Ballet Academy's Professional Division on full merit scholarship while performing with Houston Ballet. She has studied with renowned teachers David Howard, Clara Cravey, Claudio Munoz, Steve Brule, Wes Chapman and Dame Sonia Arova. Her performance career includes roles in Cinderella, Swan Lake, Les Sylphides, Giselle, The Nutcracker; original works by Ben Stevenson, Trey McIntyre, Steve Rooks, Randall Flynn, Caleb Mitchell and private coaching by Nina Watt for Jose Limon's iconic solo work "Chaconne." She performed nationally and internationally with Ballet Magnificat.
She has served on the faculty of Houston Ballet Academy, Houston's High School for the Performing and Visual Arts, The Hartt School, Belhaven University, as Ballet Mistress for Houston Metropolitan Dance Company, Ad Deum Dance Company and as Shoreline Principal for New Haven Ballet. She has been guest faculty for Ballet Academy East, Yale Ballet, Point Park University and Regional Dance America. Her choreography has been commissioned nationwide and has been presented at Ailey Citi Group Theater in New York, NY and The White House in Washington D.C.
McMillan is an ABT® Certified Teacher, who has successfully completed the ABT® Teacher Training Intensive in Primary through Level 3 of the ABT® National Training Curriculum.
She is the Founder and former Artistic Director of Ballet Hartford and School of Ballet Hartford and served on the Board of Directors for the Connecticut Dance Alliance. Currently, she is an Academy Instructor for Houston Ballet.

Carol Smitherman Anglin
Teaching Artist, Choreographer, Adjudicator, Artistic Director, Producer, and Consultant
Carol Smitherman Anglin was founding Artistic Director of the Louisiana Dance Foundation and resident dance company, Louisiana Dance Theatre, an Honor Company and 25-year member of Regional Dance America/SW, which performed throughout America, in Russia, Europe, and Canada. Carol directed and produced more than 600 master classes, dance festivals, and performances in Shreveport from 1982-2016 including residencies with Judith Jamison, Robert Battle, Dianne Maroney-Grigsby, Sylvia Waters, Milton Myers, Ana Marie Forsythe, Christopher Huggins, Ceyhun Ozsoy, Gennadi Vostrikov, Soili Arvola, Michael Vernon, John Magnus, Nikoloz Makhateli, Tatiana Tchernova, Joe Tremaine, Gus Giordano, Chet Walker, Jon Lehrer, Charles McGowan, Billy Siegenfeld, and many others. Companies presented under her artistic direction included multiple residencies and performances of Ailey II, Dance Theatre of Harlem, Feld Ballets, Ballet Eddy Toussaint de Montreal, Korea's Universal Ballet, LehrerDance, Jump Rhythm Jazz, plus guest artists from San Francisco Ballet, Houston Ballet, ABT, NYCB, Paris Opera Ballet, and more.
As a Ballet and Modern teaching artist, Carol has taught globally in Russia, Europe, and Canada. She was the first American to teach Modern Dance at the School of Marina Semyonova in Moscow (1990) followed by a yearlong exchange of seventy Soviet/ American dancers between Moscow and Shreveport.
As founding director and instructor of Carol Anglin Dancenter, Inc. (1982-2016), her studio became an incubator for the development of dancers, teachers, choreographers, composers, costumers; company repertoire; audience development; collaborations and partnerships; community outreach; and more.
For 34 years, Carol taught 40+ classes per week to students from all socio-economic backgrounds in studios, public schools, colleges, and universities. Many of Carol's students have pursued professional dance careers including Ashley Murphy (Principal dancer of Dance Theatre of Harlem & The Washington Ballet, current position) and Brandi Coleman (Assistant Professor of Jazz at SMU; Associate Artistic Director and principal dancer of Chicago's Jump Rhythm Jazz Project).
Carol continues her position as guest artist at Grambling State University (1982-2021) where she and GSU Artistic Director and former Alvin Ailey soloist, Dianne Maroney-Grigsby, partnered for 34 years – combining artists, audiences, and resources in Shreveport, Grambling, Ruston, Nachitoches, and throughout the state of Louisiana. The two artists continue to work together as teachers & choreographers.
A SRAC Artist Fellow, Carol's choreography has been selected for Regional Dance America Gala Performances, Tanzsommer Innsbruck Galas in Austria, performances in Russia, and several Jazz Dance World Congresses in Chicago and Washington, D.C. where she received choreography awards at Northwestern University, DePaul University, The Harris Theatre; and in Washington, D.C. at the Kennedy Center.
For 34 years, Carol choreographed for Shreveport's Symphony, Opera, and Community Theatres. Oscar and Emmy Award recipient, William Joyce, selected Carol to choreograph the World Premiere of the Leaf Men and the Brave Good Bugs. With a passion for community outreach and partnerships, Carol partnered with more than fifty north Louisiana organizations and educational institutions annually reaching averages of 30,000 people from underserved populations.
Carol received the 2004 Stream Award for outstanding artistic direction; artistic growth and excellence; and commitment to the Regional Dance America movement. In 2006, Carol was Adjudicator and instructor for Western Canada's largest dance festival. Caddo Parish School Board hired Carol from 2009-11 to develop a dance program on Martin Luther King Drive at Green Oaks Performing Arts Magnet, one of Louisiana's academically unacceptable high schools. Several of the Green Oaks students went on to graduate in Theatre and Dance at Grambling State University and are now dancing professionally. She also was the interim dance director and instructor at the Louisiana School for Math, Science, and the Arts (LSMSA) in Natchitoches, LA from 2011-13—one of Louisiana's two state supported arts magnet high schools with whom the Louisiana Dance Foundation partnered from 2000-2013.
A Graduate Teaching Foundation Fellow (2016-2019), Carol recently graduated from the University of Oklahoma with her Master's in Fine Arts (MFA). During her three years at OU, Carol taught Modern, Ballet, and Understanding Dance courses. In addition to setting her personal choreography on OU's Dance Majors, she assisted Ballet and Modern Dance faculty and an international roster of OU's guest artists Trey McIntyre, Jean Guilliaume Weiss, and Modern Director Austin Hartel in their choreography for OU season performances. For her thesis, Carol designed a higher education course, "The Dancer as Entrepreneur: Guiding Young Dancers in Developing Community Dance Programs." (200+ pages)
As America's only National Association of Ballet and Modern Dance Companies, Regional Dance America's Board of Directors named Carol Anglin a National Adjudicator in 2018. She served as RDA/SE's 2020 Adjudicator evaluating 15 companies in ten states. Interrupted by the COVID 19 Pandemic, Carol returned as RDA/SE's 2021 National Adjudicator selecting three evenings of choreography for a culminating 'virtual festival' April 23-25, 2021. She has served as faculty member for Regional Dance America Workshops and Festivals in Atlanta, GA; Houston and Dallas, TX; Baton Rouge and Monroe, LA; and Ft. Smith, AR. Hosted by Grambling State University, Carol also taught ballet for three Black College Dance Exchanges at Louisiana's Historically Black University attended by other HBU's.
A fourth-generation artist and educator, Carol continues to pursue international training as a teacher and choreographer. She was one of 18 international teachers accepted to New York University to train with Mme. Claude Bessy and Serge Golovine, Directors of the Paris Opera Ballet School, where she also studied choreography by Serge Lifar and other legendary artists. Carol attended the 2006 & 2010 USA IBC Teachers Courses in Classical Ballet in Jackson, MS. She completed the Intermediate and Advanced Horton Pedagogy Courses at the Alvin Ailey American Dance Center in New York (2011, 2017, 2020) and attended the National Dance Educator Organization's Annual Conferences (NDEO) in Miami (2019) and virtually (2020, 2021).
With a lifelong goal of decentralizing dance in America, Carol recently taught Dance Majors in Michigan for Interlochen Center for the Arts' 2019 Summer Intensive, for the University of Oklahoma's three-week Summer Intensives, Hathaway Academy of Ballet in Dallas, Texarkana Civic Ballet's Nutcracker Auditions casting 250 dancers, Lake Charles Civic Ballet, Saint Louis Catholic High School's newly formed Dance Department, Feijoo Ballet in Houston, DeCruz Ballet of San Antonio, Regional Dance America/SE Fall Workshop in Atlanta, GA, Houston's Dance Du Couer, University of Houston Dance Majors, Juxtapose Dance/JetPac, Hunter Dance Center; Collective Dance Artistry of San Antonio, and for Grambling State University's Orchesis Dance Company's Fall Ballet Intensives.
In March 2022, Carol taught and judged audition classes for Regional Dance America/SW Festival at the Eisemann Center in Dallas, TX. In April, she served as guest artist for University of Houston Dance Majors teaching Ballet and Modern classes. Carol currently teaches Ballet II-V & Pre-Professional Ballet and Pointe to students at Dance Du Coeur, Houston Ballet Academy Level 7 Ballet/Pointe, Hunter Dance Center (Oct/Nov 2022), Bayou City Youth Ballet (Oct/Nov 2022), Ballet and Modern Company Classes for Houston's Ad Deum Dance Company (Sept/Oct).
Throughout the pandemic, Carol has continued to mentor and guide dancers, choreographers, directors, and non-profit organizations in their missions of pursuing dance in these unprecedented times.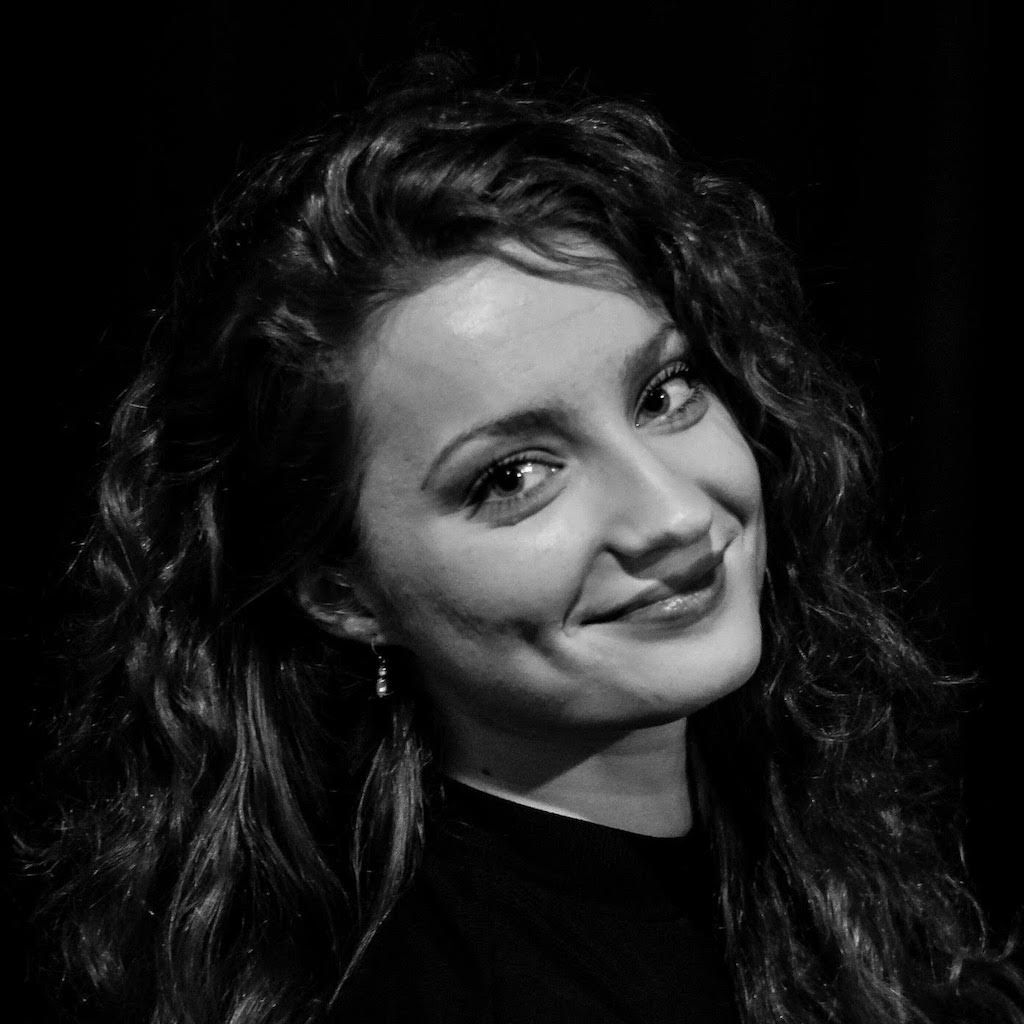 Bess Trew
Guest Instructor
Bess Trew, born in Atlanta, Georgia, received the majority of her dance training at the Baltimore School for the Arts in Maryland and the Tulsa Ballet Center for Dance Education in Oklahoma. In 2015 she moved to Jackson, Mississippi to join Ballet Magnificat's trainee program and the following year became a member of their touring company under the direction of Jiri Voborsky. From 2016-2019 Bess had the opportunity to travel and perform in seventeen countries, learning to use dance not solely as an art form, but as a tool for ministry. In the fall of 2019 she moved to Portland, Oregon to dance with Instruments Ballet Company under the direction of Rebekah Atkins; in 2020 becoming the Assistant Artist Director and choreographing two original works for the company. In the summer of 2021 Bess moved to East Tennessee to start the Enoch Contemporary Ballet. She is humbled and grateful for the company the Lord has allowed her to work with and prays they will be used to turn every eye to Him!
Register
Payment info:
(Press arrow and change to the appropriate option.)
(Due to technical difficulties, registration will open Tuesday Nov 27th. Our apologies.)