Spring Intensive 2022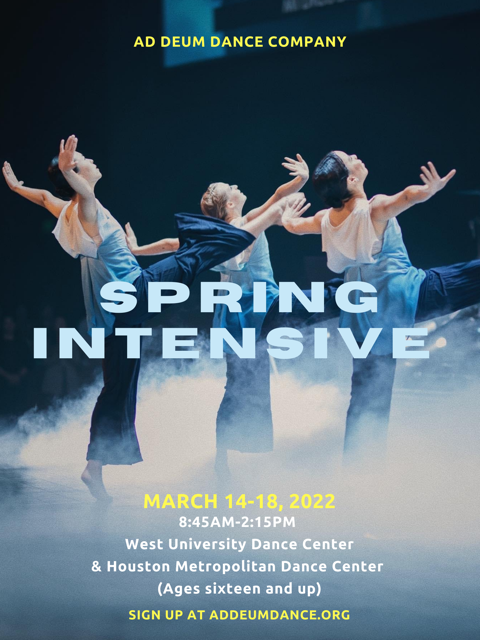 Times and location:
Mon 03/14/2022 8:45 a.m. - 2:15 p.m.
Tue 03/15/2022 8:45 a.m. - 2:15 p.m.
Wed 03/16/2022 8:45 a.m. - 2:15 p.m.
Thu 03/17/2022 8:45 a.m. - 2:15 p.m.
Fri 03/18/2022 8:45 a.m. - 2:15 p.m.
Faculty: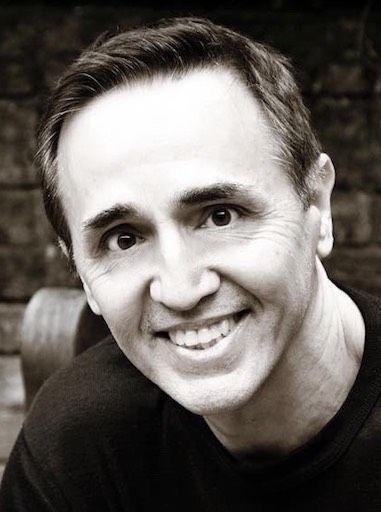 Randall Flinn
Founder / Artistic Director
Mr. Flinn began his dance training in Houston over twenty five years ago with Glenn Hunsucker, Camille Long Hill, Dina Vail and Patsy Swayze. His most recent modern dance influences have come from studies with The José Limón Dance Company and Steve Rooks, former principal dancer with Martha Graham. He has taught and choreographed locally as a guest artist for the Houston Ballet Academy, The Episcopal High School, Houston Met Dance Company, Joan Karff Dance Company, The High School for the Performing and Visual Arts, and North Harris Performing Arts Dance Company.
He was selected as a guest choreographer for Houston's Dance Salad 1999, Dance Houston 2006, and Texas Weekend of Contemporary Dance 2007. Nationally, he has served as guest faculty and choreographer for Cirque Du Soleil's-Alegria, Ballet Magnificat, Belhaven University, Friends University, Project Dance NYC, LA, and Sydney, Australia, as well as Hillsong and Dance Revolution Conventions.
Having lived throughout Europe and Asia for ten years, Mr. Flinn has also been a guest artist for Hong Kong Ballet, City Contemporary – Hong Kong, Guanzhou Modern Dance Company – China, Xaris Danz Europe, and Youth With a Mission International Schools of the Arts.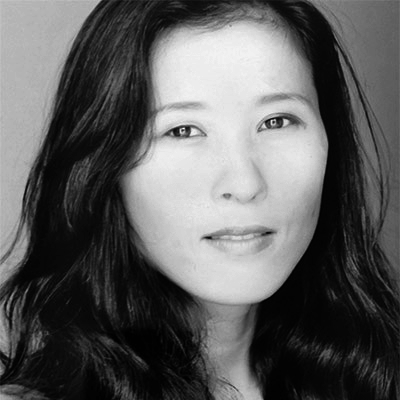 Shizu Yasuda
Ad Deum 2 Artistic Director
SHIZU YASUDA started her dance training at Sakiko Ichinomiya Ballet School in Japan. After she moved to New York, she performed with several choreographers and dance companies such as Slam and Sensedance Company. She joined Ad Deum Dance Company in 2004. She danced as a principal dancer with the company and performed at numerous dance events nationally and internationally. She got awarded as one of stunning performers by Dance Houston – City Wide Dance Festival 2008. In 2013, she was invited to Minsk in Belarus as a guest dancer and judge by Chelz Extreme Games. As a dance teacher, she has been teaching Modern and Ballet classes in the Houston dance community at such places as Ad Deum Dance Company, Houston Ballet Academy summer intensive (Modern only), Mitsi Dancing School, Payne Academy of Ballet, Studio of Dance, West University Dance Center and Houston Academy of Dance. Her choreographic works have been presented at "East Meets West" at Miller Outdoor Theater since 2008. In 2014, she became an artistic director of Ad Deum II.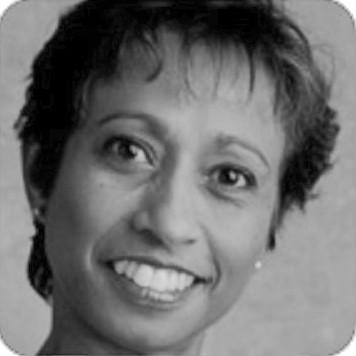 Priscilla Murphy
Ad Deum Guest Artist
Originally from Singapore, Priscilla Nathan-Murphy received her classical ballet training in the Royal Academy of Dancing Syllabi and has also been trained in oriental dance mudras, modern dance and jazz. Ms. Nathan-Murphy has a certification from the British Royal Academy of Dance in teaching and has acquired a Teaching License Diploma from the British Association of Teachers of Dance. She has also recently completed a teachers seminar and course in the Cechetti method in London. Some of the teachers and masters of dance that she has worked with include Rose Eberwein, Eve Pettinger, Kitty Daniels, James Clouser, David Horchoy, Bill Evans, Doug Varone.Ms. Nathan-Murphy has taught creative movement, ballet and modern dance in the pre-professional and professional division of Houston Ballet's Ben Stevenson Academy since 1985. She has also been a teaching artist with the Texas Institute for Arts in Education for several years and has held the position of adjunct faculty at the High School for the Performing and Visual Arts for 19 years. Ms. Nathan-Murphy has also conducted numerous master classes and workshops within the United States since 1980. Recently, Ms. Nathan-Murray completed the STOTT Pilates Mat Course.As a dancer, she has performed in Singapore and the United States with several companies. She has also choreographed extensively in the United States. A recipient of numerous scholarships and awards, she received a creative artist award from the Cultural Arts Council of Houston/Harris County for her choreographic work in 1992 and a Fellowship Choreographers Award in 1998. Ms. Nathan-Murphy is also a recipient of the American National Choreographers Competition Award held in Chicago and several teacher recognition awards given by the National Foundation for the Advancement in the Arts. Locally she has choreographed for Houston Ballet II, Houston Grand Opera, Houston Metropolitan Dance Company and numerous other companies.
While on staff with the Houston Ballet Academy, Ms. Nathan-Murphy further developed and delineated the syllabi for the Creative Dance Program, as well as introduced the Pre-Ballet Syllabus. She was also instrumental in introducing Improvisational Composition, Cultural Dance and Musical Theater into the curriculum of Houston Ballet's Summer Intensive Program.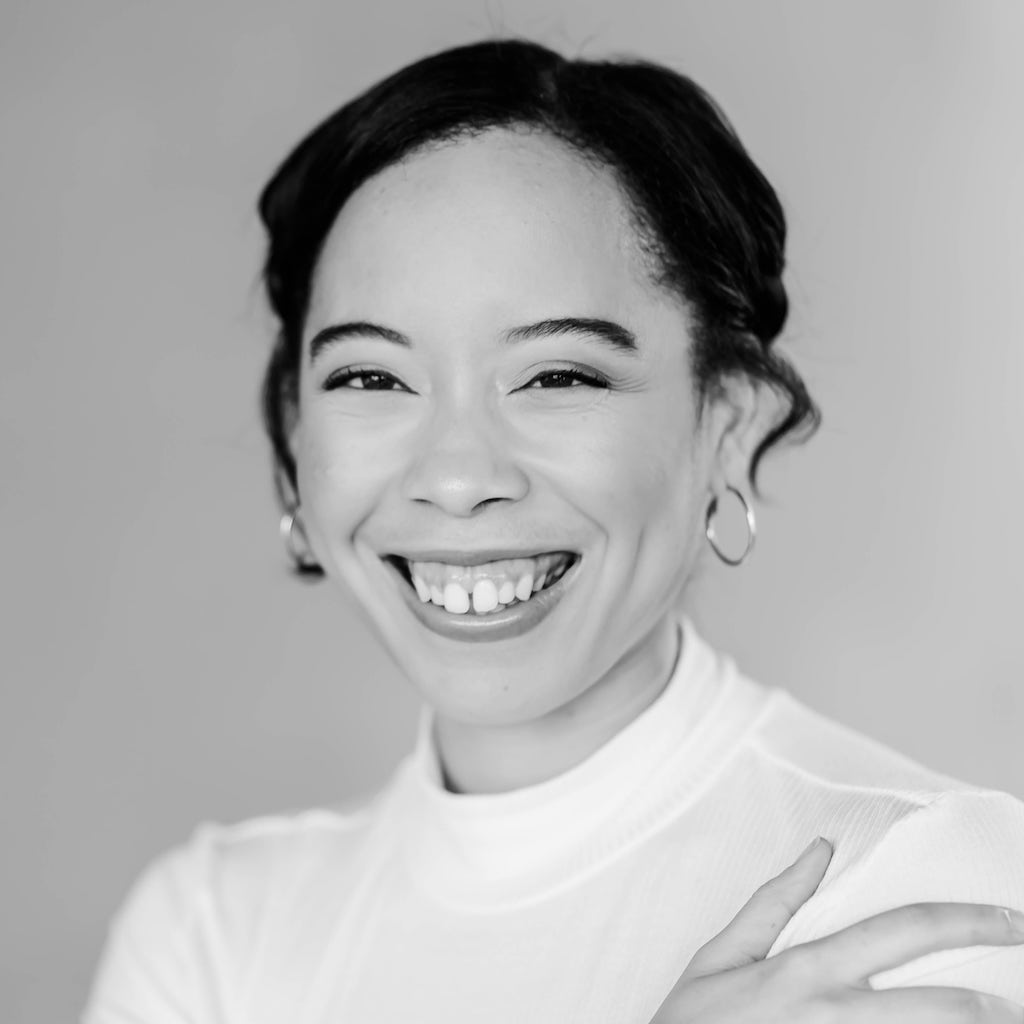 Bria Greenwood
Main Company Principal Dancer
Bria Greenwood is from Madison, MS. She received all of her dance training from the world's first professional Christian ballet company, Ballet Magnificat, in Jackson, MS. She was in their School of the Arts, and then their professional Trainee Program. She was a part of the Events Company that traveled to dance and teach in Honduras, Guam, South Korea and China. Bria moved to Houston in the fall of 2017 to join Ad Deum II, and then was promoted to the main company in the Spring of 2019. She is a dance teacher for different studios in Houston.
Seungyeon Yoo
Main Company Principal Dancer
Jasmine Seungyeon Yoo is originally from Seoul, South Korea. She grew up dancing at Soo Dance Company in Seoul and came to the US to pursue an education in Dance at Nutmeg Conservatory of the Arts, Walnut Hill Arts School. In 2017, she received her BFA in Contemporary Dance and Performance from The Boston Conservatory in Boston, MA. During her junior year of college, Seungyeon joined Pneuma Theatre Ballet Company in Korea for two years and performed nationally and internationally in Tanzania, Taiwan, the Philippines, and Jordan. After graduating, Seungyeon served in several different dance ministries, campus ministries, and churches in the Boston area. In 2018, she moved to Houston, TX to join Ad Deum Dance Company as a main company principal dancer since 2018.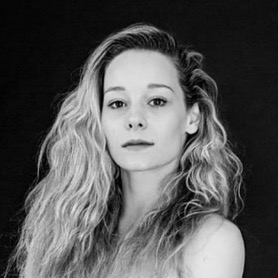 Charlotte Landreau
Guest Instructor
Charlotte Landreau, a native of France, is an ex pre Olympic rhythmic gymnast. and started dance at 18 years old. After studying ballet, acting and modern dance at the Béjart School in Switzerland for two years, Ms. Landreau came to NYC to study at the Martha Graham School and was honored with the Excellence in Performance Award while dancing for Graham 2. She was hired and promoted Principal dancer, performing all over the world for the Martha Graham Dance Company for almost a decade. Ms Landreau became a master teacher in the Graham technique and is well reknowed in Switzerland, France and America. Ms. Landreau now teaches ballet, modern, contemporary and conditioning at the Dancer's Workshop in Jackson Hole, Wyoming.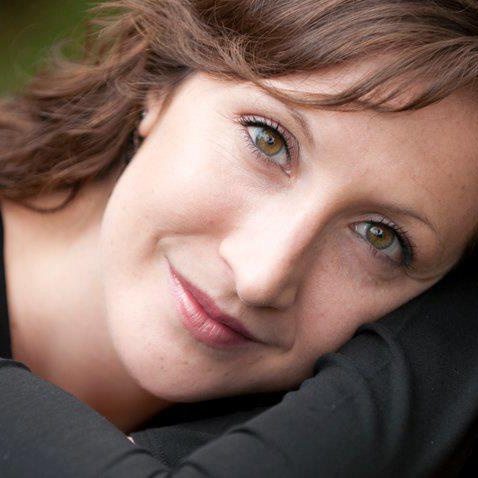 Betsy McMillan
Artistic Director of Vivid Ballet
Elizabeth "Betsy" began her ballet training with Alabama Dance Theater and continued with Houston Ballet Academy's Professional Division on full merit scholarship while performing with Houston Ballet. She has studied with renowned teachers David Howard, Clara Cravey, Claudio Munoz, Steve Brule, Wes Chapman and Dame Sonia Arova. Her performance career includes roles in Cinderella, Swan Lake, Les Sylphides, Giselle, The Nutcracker; original works by Ben Stevenson, Trey McIntyre, Steve Rooks, Randall Flynn, Caleb Mitchell and private coaching by Nina Watt for Jose Limon's iconic solo work "Chaconne." She performed nationally and internationally with Ballet Magnificat.
She has served on the faculty of Houston Ballet Academy, Houston's High School for the Performing and Visual Arts, The Hartt School, Belhaven University, as Ballet Mistress for Houston Metropolitan Dance Company, Ad Deum Dance Company and as Shoreline Principal for New Haven Ballet. She has been guest faculty for Ballet Academy East, Yale Ballet, Point Park University and Regional Dance America. Her choreography has been commissioned nationwide and has been presented at Ailey Citi Group Theater in New York, NY and The White House in Washington D.C.
McMillan is an ABT® Certified Teacher, who has successfully completed the ABT® Teacher Training Intensive in Primary through Level 3 of the ABT® National Training Curriculum.
She is the Founder and former Artistic Director of Ballet Hartford and School of Ballet Hartford and served on the Board of Directors for the Connecticut Dance Alliance. Currently, she is an Academy Instructor for Houston Ballet.
Register
Payment info:
(Press arrow and change to the appropriate option.)
Ages 16-up
Two class levels/ intermediate and advanced/professional
Advanced/Professional Video Audition: The advanced/professional division does require that a video submission to be sent by March 1st. The video must include a short solo variation/choreography in ballet and modern/contemporary, not to exceed 1.5 minutes each. Also include a headshot and dance related biographic sketch or resume.
Auditions for Ad Deum Dance Company and Ad Deum's Dance Mentorship Program will also be held during the Intensive. Please check the box on the registration form if you desire to audition during this time.
Cost: $175.00 (does not include lodging or meals)
Studio locations:
West University Dance Center 4007 Bellaire Blvd Suite D. Houston
Houston Metropolitan Dance Center 4916 Main St, Unit 100 Houston